Never one to shy away from a challenge I was excited to be asked to do these awesome invitations for Hayley and Mark- two very awesome people who decided to spend the rest of their lives together and were having a massive party to celebrate.
I loved the collaborative design concept for the invitation - the cover image drawn by Neil Slorance and they let me loose on the inside with a very open brief. It went a little along these lines...'we like your writing, we like that fadey colour thing you did on that other thing and please don't use the phrase 'getting married... '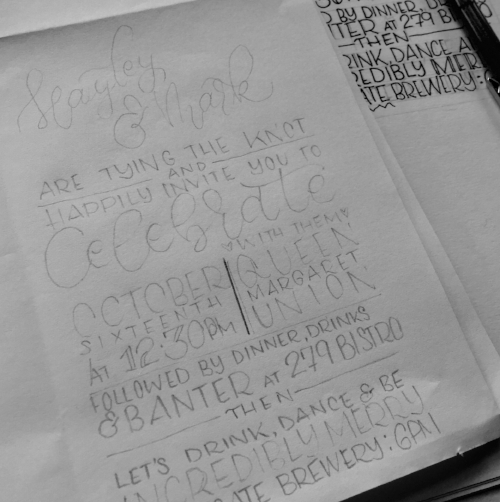 How do you write a wedding invitation without using the phrase 'getting married'?
Google my friend, a lot of Google!
Spliced, Hitched, Wed, tying the knot... there were many options, so I sent over some suggestions.
It was clear, the main focus was to be on the fact it was a celebration. A great big party with all their favourite people. The fact they were getting... erm... hitched was a side line.
I started with pencil sketches, testing layout options and wording before streamlining the chosen design and testing in pen. Here's a selection of options that I worked on, you can see the process here from pencil sketch above through liner, adding colour and the final invite.
The final product included a small number of fully hand written invitations with envelope and a digital versions for printing. Can you see the difference between the digital and the hand written in the gallery below?
I'm really pleased with the final versions of both the digital and the handwritten. It was a challenge – especially to get the hand written ones as close to identical as possible. I had to keep reminding myself that it was highly unlikely that their day guests were going to stand and compare invites… but you have to keep your standards high, right!
It was a challenge but I really enjoyed the whole process and I'm delighted that Mark and Hayley loved them too. Wishing them both many happy years together <3
MATERIALS USED
Tombow dual tips and blender, Pentel Touch Sign Pens and some really nice fine liners that I never remember! Ipad Pro, Procreate, photoshop and a lot of coffee.